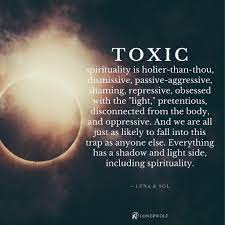 TOXIC SPIRITUALITY - BEWARE!!
When going through your journey of healing you might find yourself on the spiritual path and come across people who claim to have evolved in their spiritual journey.
There is something called Toxic Spirituality and not all who claim to have evolved have truly evolved. All that they have become is someone filled with a lot of poisonous garbage in the name of spirituality.
So what is toxic spirituality?